Why use Ranger Engineering Consulting
Ranger Engineering has more hands on GPS machine control model building experience than anyone else. In the past 12 years we have built well over 1700 distinct 3D GPS machine control models. That's 1700 unique projects ranging in size from half acre to hundreds of acres located in every corner of our great Nation. Each of these machine control models have been constructed without issue.  At Ranger Engineering our single biggest goal is to ensure that before a blade ever hits the dirt, all issues, errors or typos in the construction plans have been worked out. Big or small, we take the time to build your machine control model right.
We specialize in daylight to daylight machine control models for roadways and heavy highways – both finish grade and subgrade surfaces.  As with all of our machine control models, these are built by a civil engineer and checked by a civil engineer. Our experience and services cover all aspects and types of site construction: if you're moving dirt we can help.
Baker Hughes OKC
The Baker Hughes machine control model is a perfect example of a commercial site model. The site incorporated many components of a typical commercial site: parking lot with different types of curb, sidewalk, office building, retaining walls, yard with warehouse and the detention basin. All of these components were incorporated into the finish grade surface along with full 3D utility staking and layout. As is typical with commercial sites, architects and design engineers have changed the site numerous times – each time requiring updates to our finish grade surface, linework and staking points.
Commercial, especially 'simple sites' that don't incorporate plan and profile components, are by far the most common projects built by model builders. This is because of their apparent simplicity and a feeling of 'just convert the contours and add some spots.' Contrary to this belief, commercial sites need the same time and attention to detail as other, more complex projects.
Two biggest challenges with commercial sites are getting all the details incorporated into your surface and dealing with the lack of specific grade information. Using Ranger Engineers 'cell grading' method, we ensure that not only is the site correctly graded, but the grade transitions are smooth and consistent – all of which gives your operators a better ride in the field. We also built the site according to your needs in the field: staking or machine control – or both.
Beechtree Phase 2AB
The Beechtree subdivision in Maryland, model built by Ranger Engineering in 2013, is a good example of a complex subdivision machine control model. As is typical with subdivisions, all roadways were based on the plan, profile and typical section information contained in the construction plans. There were multiple types of curb, each effecting the height and location of back of curb. Each intersection had to be built in the model using limited information from the construction plans. And the low points in the curb had to be manually calculated to ensure the County minimum slope was maintained.
Moving outside of the roadway, the lot pads are 'stepped' and those with basements have the walk out elevation worked into the surface. These elements were incorporated into the finish grade model. The client then requested a separate 'raked' model so the operators could smoothly mass grade out the areas of the building pads.
There are many challenges with building a good subdivision model. Road intersections, side and rear lot details, variable curb heights, drainage between pads and so forth. Ranger Engineering's 11 years experience of building subdivisions, and the procedure that has been developed to do so, allows us to not only get all the tricky parts corrected modeled, but find any errors in the construction plans as we do so.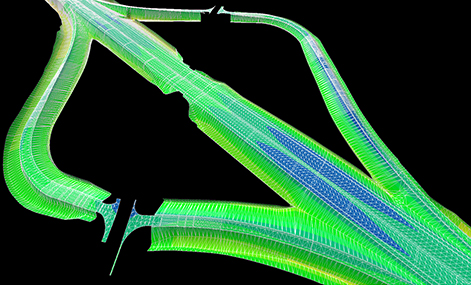 I75 Monroe
The I75 Monroe project in Michigan, model built by Ranger Engineering in 2015, showcases our biggest specialty: daylight to daylight machine control models of heavy highway projects – both a finish grade and subgrade surface. Building a daylight to daylight heavy highway model is easily the most complex, and time consuming, area of work for a model builder. You must incorporate plan, profile, typical section, subgrade, bridge, super-elevation, alignment, gore staking, utility and, of course, cross section information all into a single model.
Because of this complexity, more than any other type of projects, heavy highway requires the model builder to have experience not only as a data builder, but also as a civil engineer and surveyor. After 11 years of building daylight to daylight heavy highway models, we have learned that it is not *if* there will be issues in the construction plans. Issues and conflicts always seem to abound with these monster projects.
Ranger Engineering is here to help though. Not only will we find these issues, we assist in the RFI process by providing you with a detailed description of each conflict we find and suggest a solution based on our engineering and surveying background and experience. We want to make sure that by the time you start moving dirt, all issues – great and small – have been identified and corrected in the model before these errors ever get to the field.
Fort Riley Known Distance Range
The Fort Riley Known Distance Range in Kansas, model built by Ranger Engineering in 2013, is a typical example of the military installations we have built over the last 11 years. While many military sites are more commercial sites or roadways, there is a special breed of military projects that have their own challenges – such as infantry target ranges, tank target ranges or security facilities and barriers. These unique projects require both working very closely with you on your needs in the field, and having a process to create a model that is 'outside of the box.'
The Fort Riley Known Distance Range incorporated into its finish grade surface parking lots, roadways, plan and profile roadways, sidewalk, tower foundations, firing line, individual target pads, plan and profile target berm and all the site grading or ditch work between these elements. These many components of course had conflicts in the construction plans that needed to be worked out in close work with our client.
While the Fort Riley Known Distance Range project was typical of infantry firing ranges, military sites are are unique from commercial or roadway projects with their own set of challenges. Ranger Engineer works closely with you to make sure that not only is the model correct and without error, but it is providing the information you need to build the site using GPS machine control and staking – without overwhelming your field crews with too much data.
Guntersville Airport
The Guntersville Airport expansion project located in Alabama, model built by Ranger Engineering in 2014, is a good example of the challenges that are faced when building an airport machine control model. While many components of the site are similar to a commercial site – based on proposed grade contours and spot elevations – the rest are based on the plan and profile runway or taxiways and the joint/panel grading plans. The number of joint/panel spot elevations tends to be in the thousands on bigger projects – and each one must be correct.
Also, airports generally need both a finish grade surface and a subgrade surface to account for the different depths of materials needed. This is especially helpful in areas where multiple material depths are close to each other making dialing down in the field more difficult. As such, airports, along with highways, are the only projects that we recommend subgrade and finish grade models as a rule of thumb.
Our experience in building airport machine control models for the past 11 years has given us the training to know where the conflicts and errors occur. We can then trouble shoot these conflicts and errors in the construction plans and provide you with possible solutions. More than any other project type, time is money with airport work – any issues in the field can lead to a major loss for you. Ranger Engineering certified models ensure these issues never occur in the field.